Sealcoating is the process of applying a layer of emulsified, asphalt-based material to the surface in order to moisturize and protect the original asphalt from weather and deterioration. Sealcoating is often sprayed as a liquid onto the asphalt surface providing a dark finish similar to blacktop.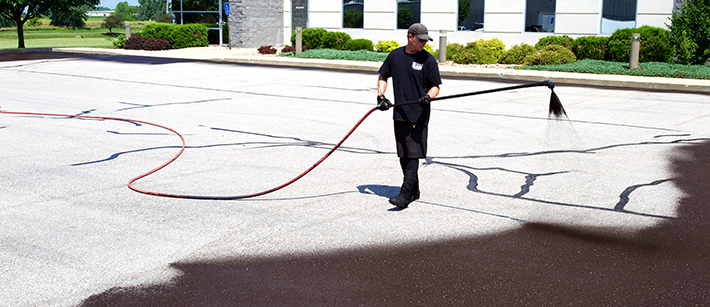 Asphalt and Sealing
Weather conditions (rain, ice, salt and sand) as well as constant traffic deteriorates the binding agent in the asphalt which leads to aging and cracking to the surface. This generally occurs within the first 3-5 years of the asphalt's lifespan.
Sealcoating provides a layer of protection against these elements before cracking and larger problems occur. Once they do though, a professional can apply crack seal to these areas to keep the issue from growing into a serious problem. Additionally, sealcoating can be applied after cracks are sealed to continue to protect the original asphalt.
With proper maintenance (sealcoating, crack sealing and patching when needed) your asphalt surface can last up to 15-20 years.
Frequently Asked Questions
When should I start sealing my asphalt?
As a preventative measure, sealcoating should begin within the first 3 years of the original asphalt being laid.
How often should sealcoating be done?
Every few years for average-traffic areas and every 2-4 years for heavy/steady traffic.
How much does it cost?
On average, sealcoating costs about 10% of your original asphalt investment.
How long does sealcoat need to dry?
Allowing 48 hours for the surface to dry before walking or allowing traffic is ideal, weather pending, seal coats can be driven on after 24 hours.
Will sealcoating stick to the surrounding grass or pavement?
Yes. Tikor Black takes preventative measures to protect pavement, signage, light poles, etc. that are being coated around. The small amount of coating that may cover grass surrounding the pavement is generally cut off in one mowing.